A wonderful baroque synthesis of fountains, wooded areas and historical water games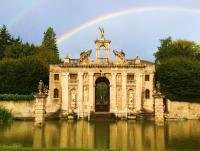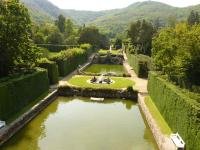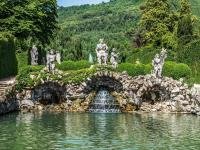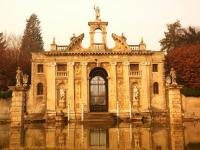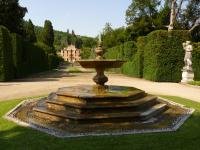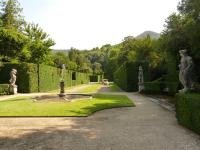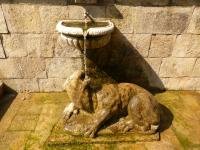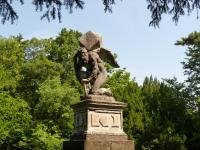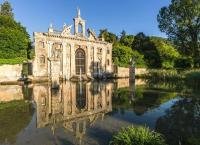 ❝Tree lined avenues, labyrinths, grottoes, streams, waterfalls, water games, a labyrinth and a multitude of allegorical statues, as well as a stately villa and a triumphant Gateway of Diana, which reflects in the lacustrine waters, all feature in this truly unique garden. Created during the Baroque period, its commissioners conceived of it as a metaphor for the spiritual journey to salvation. ❞
The monumental Garden of Valsanzibio, created between 1665 and 1696 under the auspices of a noble Venetian named Zuane Francesco Barbarigo and his sons Antonio and Gregorio, is a splendid example of a perfectly preserved Baroque garden. Once inside, we find quite amazing scenes of water and trees which together create an unparalleled sense of harmony. The project was undertaken by civil architect and fountain builder Luigi Bernini, brother of the famous sculptor Gian Lorenzo, and was inspired by Cardinal Gregorio Barbarigo, Zuane's firstborn and future saint. Following a solemn vow to God taken by the father in 1631, when Venice was scourged by a terrible plague, Gregorio wanted the Garden of Valsanzibio to become a metaphor for the spiritual journey and "road to perfection" that leads man to Truth and Revelation.
The "salvation route" begins at the monumental Gateway of Diana, the great water gate which was once the mooring place for the gondolas and boats of the Barbarigo family, and ends after a lengthy itinerary in front of the Villa and the Square of the Fountain of Ecstasy, or of Revelations. Inside the splendid garden, on an expanse of ten hectares, there are about 70 statues in Istrian stone. They are the work of Merengo and other lesser sculptors, and are beautifully integrated with the architecture, streams, labyrinths, waterfalls, fountains, small lakes and fishponds. Along the salvation path, as it was conceived by the commissioners, you can stop in pleasant places, such as the Labyrinth of Bosso, the Hermit's Grotto, the Rabbit Island, the Crono Monument, the fishponds or the fountains dedicated to deified rivers. The majestic gateway where the path begins, mounted with a statue of Diana, goddess of hunting and change, was the old access by water to the Barbarigo estate. The Villa used to be reachable by boat from Venice, via the Brenta Riviera, the Battaglia Canal and the fishing valley of Sant'Eusebio (from whence the name Valsanzibio derives).
map
How to Get There
By train: Valsanzibio is located  about 5 kilometres from Battaglia Terme station and about 7 kilometres from Monselice station, served also by long-distance trains, with good cycle-rail interchange facilities.
By car: Motorway A4 (Torino-Trieste) exit at "Terme Euganee" and proceed  towards Battaglia Terme then continue along via Petrarca and Via Valli Valsanzibio. Free parking available near the Garden entrance.
information
Opening times for visitors:
Giardino Monumentale di Valsanzibio
Where to eat: Near the Garden, the "Ristorante Al Patibolo" serves excellent fish dishes surrounded by a wonderful hilly landscape (Via dello Sport 10, Galzignano Terme; tel. 049 9131057).
Where to stay: In the centre of Galzignano Terme we suggest the "Hotel L'Incontro" and the "Residence La Meridiana", located a short distance from Valsanzibio and near the well-known golf courses of the area.
In the environs