The economic and productive centre of medieval reclamation on the Bacchiglione riverbanks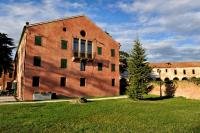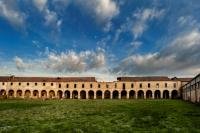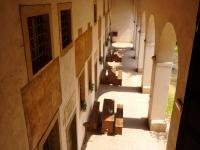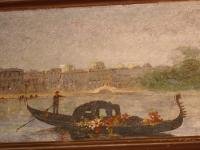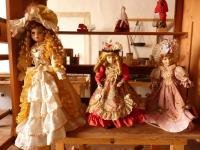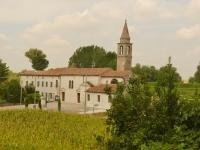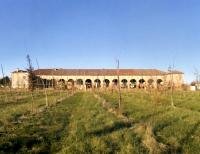 ❝The monumental Benedictine Court of Correzzola was a fulcrum of the medieval project to reclaim inaccessible and swampy area, redeemed by the untiring work of the monks. The Court stands right next to the Bacchiglione river, evidencing the strategic role rivers have always played in the movement of people and goods in an area suspended between land and water. ❞
The craftsmanship and ingenuity the Benedictine monks applied to their works of reclamation, the regimentation of water and reorganization of the agricultural lands, is most powerfully expressed in the territory around Correzzola, not only in terms of Veneto, but of the entire Po Plain. The hub of an articulate land system that was gradually retrieved from the swamps and rendered fertile from the 12th century on, is the stupendous Benedictine Court. Not by chance situated next to the Bacchiglione river, it is right at the centre of an area that was historically subject to severe swamping.
The extensive monastic complex, with its spacious and elegant colonnades, was the reference point for all surrounding agricultural activity. Overseen by the Benedictine order of Santa Giustina of Padua, as well as the monks it housed numerous rural workers employed in the traditional activities of the agricultural cycle: from working the fields to the transformation of farm produce, from animal breeding to the mending and construction of all manner of tools. Among the principle buildings there were not only granaries, haylofts, cowsheds and horse stables, but also weaving rooms, bread ovens, cellars for the production of wine, vegetable garden and gardens. These activities were carried out for centuries not only by the overseeing monks, but also directly by the rural workers.
To sum up, the Court was the main architectonic element in an organic agrarian structure, managed with great know-how and featuring a number of smaller scale hydraulic constructions, works and implements. Deployed in the surrounding countryside, their construction and the technology used were decidedly ahead of their time. As well as the complex system of drainage canals which served to make the uncultivated, swampy areas productive, we should also mention the so-called Vanezza Grande. This imposing structure was used for livestock and is characterized by truly exceptional architectonic features, not least the elegant façade with its impressive portico.
map
How to Get There
By train: the Benedictine Court is located about 4 kilometres from Pontelongo station (Venezia-Adria railway line), with good cycle-rail interchange facilities.
By car: Motorway A13 (Bologna-Padova) exit at "Monselice", then proceed along the SP5 and SR104 roads following signs to Chioggia, finally turning towards Correzzola. Travelling from the SS309 road (Romea), turn along the SR105 road towards Cavarzere near Passo della Fogolana and, after about 3 km., turn right taking the Correzzola direction. Car parks available near the site.
information
Where to eat: near the Benedictine Court we recommend the "Trattoria La Famiglia", which serves delicious traditional Venetian dishes.
Where to stay: within the atmospheric medieval site of the Benedictine Court is the "Hotel La Corte", which is also the reference point for excursions in the surrounding lagoon and reclamation areas. Near Correzzola we also suggest the "Casolare La Quercia" and the "Agriturismo Fondo San Benedetto".
In the environs