An interactive journey recounting the history of "liquid civilizations" shaped by the Po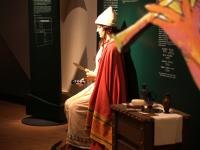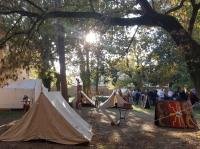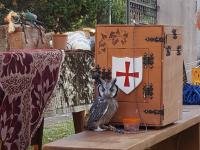 ❝The Museum of the Great Rivers, in Rovigo, offers the visitor an engaging experience within an exhibition that includes audiovisual apparatus and suggestive reconstructions of archaeological sites. The aim of the museum is to raise awareness of the natural and cultural heritage of the Polesine region, which has always been linked to the weave and the shape of the mighty rivers that surround it: the Po and the Adige.❞
The Museo dei Grandi Fiumi (Museum of the Great Rivers) is located at the ancient and evocative Olivetan Monastery of San Bartolomeo. It was inaugurated in 2001 and since its foundation it has introduced numerous innovations, including modern technologies that aim to help the visitor to get the most out of the exhibition.
The museum presents archaeological finds of great value from research conducted in the Upper and Middle Polesine area. They are organized into five different historical periods: the Bronze Age, with the fascinating pile-dwelling settlements (built on wooden stilts) of Canàr of Castelnovo Bariano, the "dammed" village of Larda di Gavello and the necropolis of Frattesìna; the Iron Age, which explores the influences of Etruscan civilization in the territory of Adria through the settlement of San Cassiano di Crespino and the necropolis of Balone; the Roman Age, which focuses on the exportation to the Polesine area of the cultural, social and economic models of Rome with the reconstruction of the rustic villa of Chiunsano, near Gaiba; the Middle Ages, which focuses on the emergence of fortified settlements, such as that of Rovigo, and allows you to admire the jewels that belonged to an Ostrogothic noblewoman, known to scholars by the name of Dama di Chiunsano. The last section on the Renaissance completes the time span, illustrating the profound cultural, social and economic changes that occurred in this period, with the spread of new architectural trends in the civil and religious spheres, and the history of the famous ceramic painter Francesco Xanto Avelli "da Rovigo ".
Visiting this museum is bound to be an interesting experience that faciliates an understanding of the evolution and development of a complex territory whose identity, more than anywhere else, has always been determined by the liquid presence of large and powerful rivers.
The Museo dei Grandi Fiumi offers educational workshops and demonstrations of experimental archaeology, including those on artefacts made from bones, flint, clay, glass, bronze and precious metals. A room dedicated to teaching, equipped with scale models and multimedia supports, also exhibits some examples of the most famous monuments of Roman architecture and related technologies that were developed in the sectors of construction, hydraulics and mechanical engineering, thus also allowing younger visitors to appreciate the genius of ancient discoveries and knowledge.