The historical floating artefacts that connect communities across the river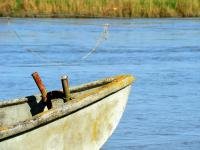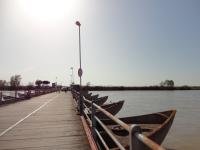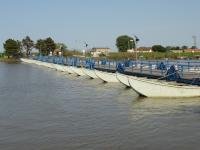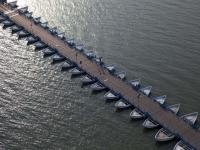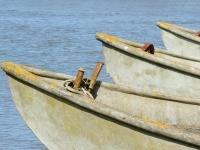 ❝The pontoons, made from boats linked together, are one of the most characteristic and original structures of the Po Delta. In an area crossed by mighty bodies of water, the pontoons of Gorino, Santa Giulia and Boccasette still allow the daily crossing of the river. For the travellers who walk across them, for the first time, they recall the difficulties and hardships necessary to maintain contact between people and villages of the opposite shores.❞
It is said that bridges over the river Po were built, at least until the 19th century, by means of a system of boats and barges linked together. Indeed, it was a faster and cheaper system than wooden, iron or brick bridges, as well as the classic "pendulum ferry" - that went back and forth from one bank to the other in the wider stretches of the river. To assemble the pontoons, the boats were lined up side by side until the two sides were joined. Then, a road base was built above the vessels and a toll station was used to collect the toll and cover the costs of construction and maintenance. In the 20th century, for safety reasons, boat decks were gradually abandoned and replaced by reinforced concrete bridges.
In the Delta, however, three fine examples of pontoons still survive, and they are indispensable for daily travel between some coastal communities. The most famous bridge of boats is probably the one that connects Gorino Veneto to Gorino Ferrarese: an infrastructure on the Po di Goro that joins the Province of Rovigo with that of Ferrara and the Veneto Region to the Emilia-Romagna Region. Less famous, but longer and more evocative, is the pontoon of Santa Giulia, which was built with concrete floats in the 1920s so as to join the opposite banks of the Po di Gnocca. Not many years after its inauguration, due to big floods and subsequent debris that accumulated between one boat and another, the bridge broke away from the support pillars and floated out to sea. For about two years the "passo" was active in Santa Giulia, that is, the traditional ferry service between one bank and another. At the beginning of the 1920s the pontoon bridge was rebuilt, but there was provision to open it in two parts, in order to let flow through the large torrents which, even today, at certain times of the year, arrive unexpectedly and with devastating consequences. A more recent construction (in operation since 2005), and still little known, is the pontoon that connects the left bank of the Po di Maistra, in the territory of Porto Viro, with the locality of Boccasette in Porto Tolle on the island of Ca' Venier, making it a particularly interesting and evocative place.
Crossing and retracing these ancient mobile bridges is a fascinating experience, which leads us to reflect on and face the adversities and dangers inherent in ancient river crossings, as well as the difficult art of building bridges. An art which gave us, in ancient Roman times, the title and most-important role of "pontifex" (originally attributed only to those who were able to build bridges to cross rivers then, by association, to kings and emperors), still handed down today to the figure of the Pope, also called "Pontiff".