From the Neolithic to the Medieval: discovering the civilizations that grew up along rivers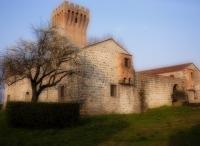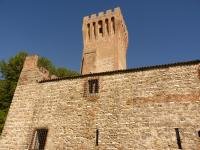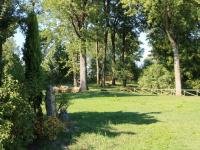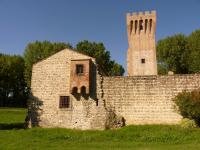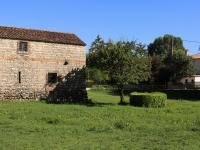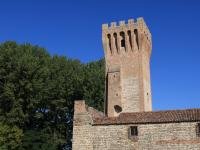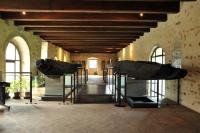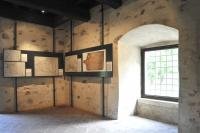 ❝The history and geomorphology of the Bacchiglione is on display at the medieval castle of San Martino della Vaneza, built along one of the river's sinuous bends. The castle was erected as military bastion and control centre of river commerce. Evidence of the various civilizations, which from the Neolithic to the Medieval established a symbiotic relationship with the waterway, may be found in this Museum.❞
The imposing silhouette of the castle of San Martino della Vaneza rises up by one of the Bacchiglione river bends. This ancient castle was constructed near to the town of Cervarese Santa Croce, on the borders between the territories of Padua and Vicenza. Inside its walls, a museum itinerary has been set up which illustrates the uniqueness of this fluvial waterway, from geo-morphological, historical and archaeological perspectives.
The museum holds interesting finds from the Bacchiglione riverbed, divided into two sections. On the ground floor, there are two very valuable single-trunk dugouts in oak, dating to the late medieval, which were found by archaeologists on the river. Also on display is a hydro-graphic map which provides important information as to the socioeconomic activities of the region and the dynamics of human settlements along the river, illustrating the sites where discoveries were made.
On the upper floor, there is a rich archaeological collection that spans from the Neolithic to the Roman period. Among the most interesting artifacts are swords, daggers and lance spears from the Bronze Age, but also artifacts in deer horn and various Neolithic domestic objects, such as cups and ceramic vases. From the Iron Age there is a valuable bronze piece of a mounted warrior, associated with a Veneto site of worship that existed on the riverbanks. The medieval fort was for centuries the centre of intense commercial traffic linked to navigation on the Bacchiglione, and, during periods of dispute among nobles, a strategic defensive outpost right next to the waterway. The castle, which already existed after the year 1000 A.D., was enlarged and fortified by the Carraresi family, who also strengthened its tower. It then operated as a river station at the time of the Venetian republic. During the same period, a characteristic "floating mill', used for grinding cereal, operated nearby.
map
How to Get There
By train: the museum is situated about 11 kilometres from the Grisignano di Zocco station, on the Padova-Vicenza railway line, with good cycle-rail interchange facilities.
By car: the nearest Motorway exits are Grisignano di Zocco, on the A4 (Torino-Trieste), and Longare-Montegaldella, on the A31 (Rovigo-Piovene Rocchette), from which proceed towards Cervarese Santa Croce. Alternatively, travelling from the South on Motorway A13 (Bologna-Padova), proceed towards the centre of Padua on the SR47 road, then continue towards Selvazzano Dentro – Saccolongo along the SR47 road as far as the free museum car park, near the Castle.
information
Where to eat: we recommend the "Ristorante Pizzeria Euganeus" in Montemerlo di Cervarese and the "Ristorante la Corte di Trambacche", located in a beautiful rural building near Veggiano.
Where to stay: we suggest the "Agriturismo La Buona Terra" (farmhouse), overlooking the luxuriant rural setting of the Bacchiglione river.
In the environs