Along the Salt and Sugar Routes, the fluvial intersection to and from the Adriatic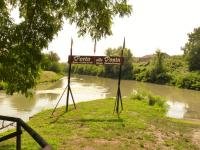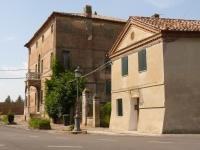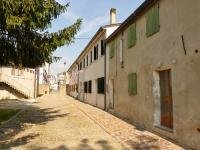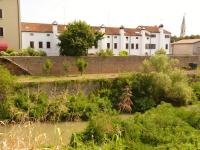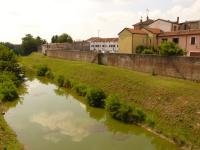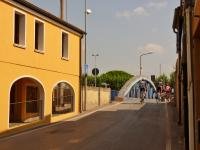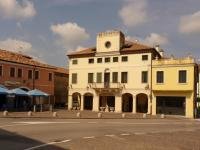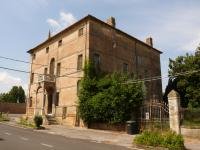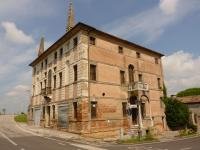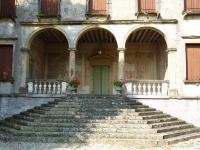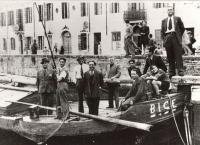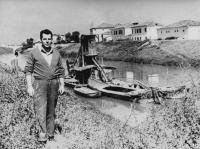 ❝The workers' modest homes which abound in Bovolenta are a testament to those who once worked in river navigation, the many carpenters, smiths, boatsmen and horsemen. The town has had shifting fortunes as from medieval times, when a castle was built to preside over river traffic, right at the confluence of two waterways, strategically placed for access to the Adriatic from Padua and the Euganean Hills. ❞
The centre of Bovolenta stands at an important hydraulic junction, at the confluence of the Roncajette Canal (principal branch of the Bacchiglione from Padua) and the Vigenzone Canal, from Battaglia Terme. These two waterways meet at Bovolenta, near the strip of lands known as pontara. The town's importance has always gone hand in hand with commercial navigation on the Paduan canals, and, initially, Bovolenta was the central axis of the medieval route that linked Padua with Chioggia and Venice on the Adriatic coast. That is why the town was the subject of dispute between Padua and Venice during the thirteenth and fourteenth centuries. Testaments to the various professions involved in the transportation of people and goods, such as boatmen, horsemen, carpenters and smiths, are a principal characteristic of the town. This is further confirmed by a medieval tax that existed at Bovolenta called cavallatico, for those who possessed animals used for towing boats upstream with ropes. The strategic position of the town, at the crossroads of two major canals, drove the Carraresi family to build a castle there, which immediately became the focus of fierce and bloody dispute, indeed it was completely destroyed in 1388. Following this, with the construction of the Brenta Canal, the centre of navigation between Padua and Venice shifted further north, to the Brenta Riviera, bringing a definitive end to Bovolenta's strategic role. The complete cessation of river traffic came about in the second half of the twentieth century, and today the canal that crosses Bovolenta constitutes an ideal place for leisure and excursions, thanks to the many tourist itineraries which retrace the medieval water route: the Salt Route (Chioggia) and the Sugar Route (Pontelongo), directly connected to the Adriatic sea.  
map
How to Get There
By train: Bovolenta is located about 8 km. from Pontelongo station (Venezia-Adria railway line), with good cycle-rail interchange facilities.
By car: exit the Motorway A13 (Bologna-Padova) at "Terme Euganee", then proceed along the SP9 road towards Bovolenta. Free car parks available near the Parish Church.
information
Where to eat: we suggest the "Pizzeria Vizio", remarkable for its seafood paella among other specialties , and the "Pizzeria Trattoria Tato Birillo" (Piazza Accademia 24, Bovolenta; tel. 049 5386281).
Where to stay: we recommend the "Villa Casa Country", in the countryside, which has a small riding stable and a wonderful garden.
In the environs