WATER: AN ENDLESS RESOURCE?

Water is ancient. The same water we observe in the glass before drinking has existed for millions of years. In all these years it has always been moving between sky and earth, it has dissolved rocks, it has been in plant fibres, animal organs and even in the body of men who preceded us.
Mankind today seriously endangers this wonderful system of balance and harmony, which involves nature and all living things.
The balances are changing in a very clear way: let's think about the climate changes we experience in always more unrecognisable seasons, or the increasing desertification, causing the exodus of thousands of people from the South of the world, which tent to reach developed countries. Nowadays, it is up to the human being to take responsibility for his actions that have an effect on the environment and natural resources, as well as on the lives of human beings, animals and plants.
This paragraph should have been title "Water: unchanging resource", but now more than ever, this claim – although scientifically correct – is likely to be completely misleading. Indeed, if it is true that the amount of water on Earth has always been the same for millions of years, its quality has dramatically deteriorated during the twentieth century. The human being has synthesised chemical elements that nature does not recognise anymore and that the natural decomposition processes are unable to reabsorb, once they have been released into the ground. Therefore, we have contaminated waters that take hundreds of years to get pure again and even more if considering atomic radiations or batteries we use every day (i.e. a cadmium battery takes thousands of years to deteriorate).
In recent decades, five enormous plastic islands have formed in the oceans over an area of 16 million square kilometres (equal to 53 times Italy). This plastic is crumbling under the impact of atmospheric agents in so many tiny particles similar to plankton, which fish ingest.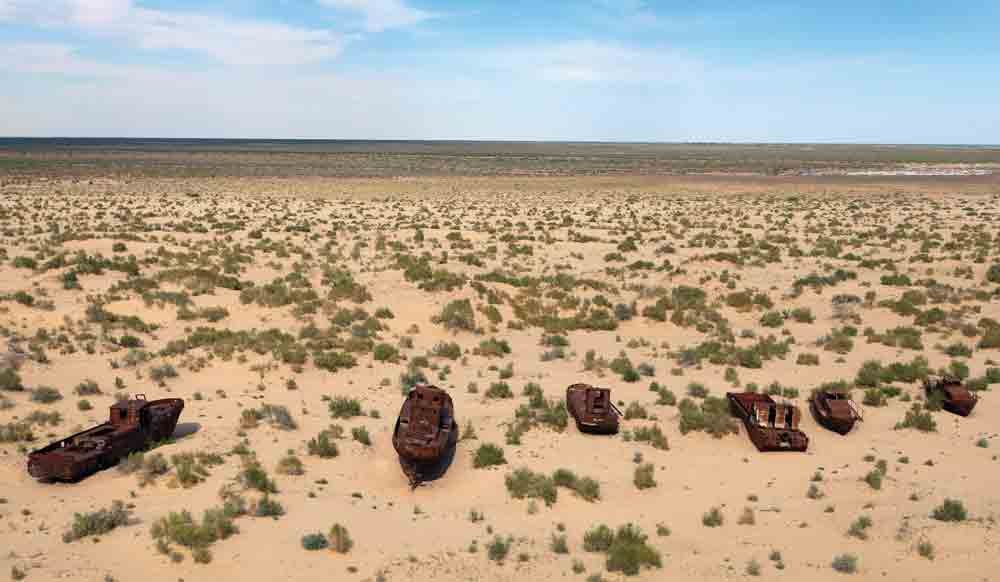 Lake of Aral