The historical dockings of the Burchiello, as depicted in Canaletto's renowned painting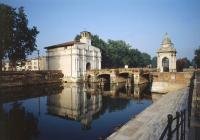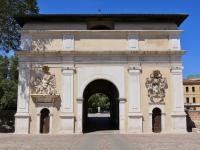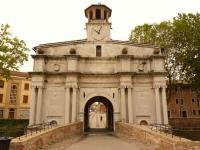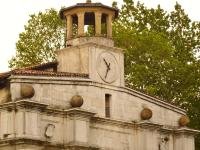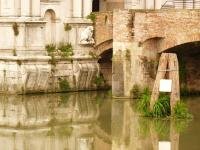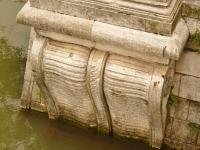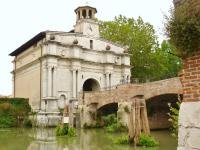 ❝Emblematic of the ancient sailing tradition on the "liquid roads" which cross Veneto, the river station of Portello is one of the most characteristic in Padua. In front of the quay with its elegant step-way, which is today's docking for tourist navigation on the Brenta Riviera, we find the monumental Porta Ognissanti, coated in white Istrian stone and shaped much like a triumphal arch. ❞
The river dock of Portello, overlooking the Piovego Canal, is one of the most significant water sites in Padua's historical centre. Condensed within it are the history of flourishing commerce, valuable architectonic elements, as well as the centuries old customs and traditions of the waterways. The site, the name of which refers to a passageway within the medieval walls to allow the passage of people and goods, more precisely known as a 'portello', is closely linked to previous navigation on the Piovego Canal, the thirteenth century waterway that was constructed to connect the Bacchiglione with the Brenta Canal, making it possible to reach Venice directly without having to navigate via Chioggia. When Padua was annexed to the Venetian republic, the medieval wall system was markedly reshaped with the construction of the monumental Porta Ognissanti, the sixteenth century architectural work which dominates the river station. Coated in white Istrian stone, very similar to a triumphal arch, you get there by means of a footbridge next to the quay. The impressive set of steps, once the historical dockings of the famous passenger boat, the Burchiello, is found close to the Santa Maria dei Barcaioli newsstand. This beautifully worked and decorated vessel was used by wealthy Venetians to get to their mainland villas directly from Venice. The Burchiello has been eulogised by noted scholars and writers, from Goldoni to Goethe and D'Annunzio. Even Giacomo Casanova left a detailed account of his experience on board the vessel in 1734 in the company of Baffo, famous Venetian erotic poet. The ancient port of Portello, also made famous by the marvellous Canaletto painting (today in the National Gallery of Art, Washington), still today retains its function, thanks to tourism on the Riviera del Brenta and Padua's water circuit. In Summer it hosts many musical and cinematographic events, set in the spectacular context and backdrop of water.     
map
How to Get There
By train: from Padua station go along Corso del Popolo towards the historic centre, then turn left onto Via Trieste and follow the river Piovego until you reach the University area.
By car: Motorway A4 (Torino-Trieste) exit at "Padova Est" and then proceed towards the centre of Padua. Pay and display parking at Padova Centro Park (via Trieste) and at Via Enrico degli Scrovegni.
information
Where to eat: very near the river port there is "Trattoria Al Fungo", which serves traditional Venetian dishes, and the "Pizzeria Al Porteo", for a quick lunch (Via del Portello 93, Padova; tel. 049 772311).
Where to stay: we suggest "Hotel Galileo", near the main roads connecting Padua to the motorways, and the "Bed & Breakfast Porta Venezia", in the heart of Portello.
River boat cruises and excursions:
Delta Tour Navigazione Turistica
Il Burchiello
In the environs