From bridge to bridge: Voga alla Veneta along the Bisato Canal and its walled cities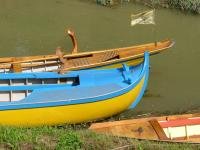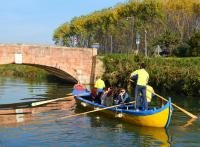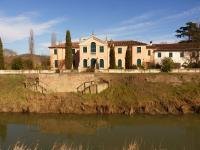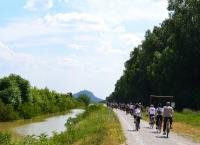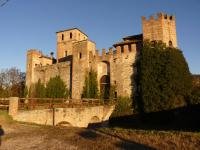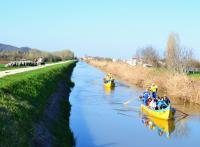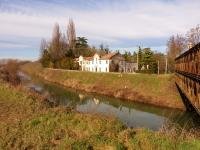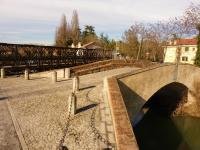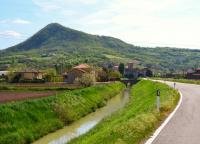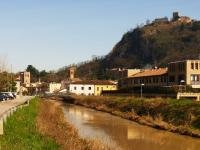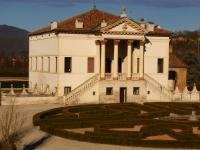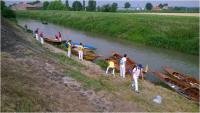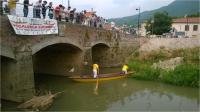 ❝Every year, vessels with rigorously wooden hulls, powered by the traditional rowing technique called Voga alla Veneta, the same used by Venetian gondoliers, take to the waterway in the Euganean Hills called the Bisato Canal (1139). The event reenacts and celebrates the nautical traditions of the era of fresh water sailors and river navigation. ❞
In June of every year, the Vogalonga Euganea takes place along the waters of the historical canal of medieval origin, the Bisato Canal (1139), reenacting traditional fresh water sailing in wooden boats. The boats follow the historical Bisato trail, leaving from the historical square of Vo' Vecchio and crossing the walled cities of Lozzo Atestino, Cinto Euganeo, Este, Baone and Monselice until they reach the river town Battaglia Terme. Almost thirty kilometres in length, the journey is undertaken in traditional wooden boats, using the rowing technique known as Voga alla Veneta (rowing Veneto style). Stops are taken along the way at specific moorings where the very scenographic alzaremi (raising the oars) takes place. Today, the Vogalonga Euganea offers a special opportunity to reflect on the importance of navigable waterways and all things connected: histories, memories, practices and customs established over the centuries and a vital part of local identity. The event also emphasises the need for environmental protection and re-appreciation of the land, indeed spectators can follow the rowers along the canal banks on foot and cycle paths. The event is organized by the El Bisato Rowing Club of Battaglia Terme, custodian of ancient inland navigational practices and very much involved in the transmission of such knowledge through rowing courses and excursions. Many young people are interested in these traditions and frequent the courses. Undoubtedly, a boat trip along these canals will promote the rediscovery of the natural and historical heritage of the Euganean Hills, the many castles, villas, walled cities, barriers, navigation basins, moorings and dockings, from a totally new perspective.      
map
How to Get There
By train: Vò Vecchio, the starting point of the Euganean Vogalonga, is situated about 13 Kilometres from Este train station, on the Mantova-Monselice railway line with good cycle-rail interchange facilities.
By car: Motorway A31 exit at Agugliaro, then follow signs to Vo Vecchio. Alternatively, coming from A13 motorway, exit at Monselice, proceed to Este along the SR10 road, then turn North towards Lozzo Atestino-Vò Euganeo.
information
Where to eat: Near Vo Vecchio, the starting point of Vogalonga, we recommend the restaurant "El Portego" and the wine bar "Enoteca Ca' Manin" (Via Marconi 732, Vo Vecchio, tel. 049 9940502). In Battaglia Terme, at the finish line of the racing event, we suggest the restaurant "Il ristorantino" (Via Roma 75, Battaglia Terme; tel. 348 858 1703) and the wine bar "Enoteca Fermati Un Momento" (Viale dei Colli Euganei 43, Battaglia Terme; tel. 049 5911088). Along the Vogalonga itinerary, which runs through several villages, such as Lozzo Atesino, Este and Monselice, it is also possible to enjoy the numerous bars and little restaurants on the way.
Where to stay: we recommend "Nuova Locanda Al Sole", in the town centre of Vo Euganeo, and "Bed & Breakfast La Martina" in Agugliaro (provides bicycle rental service), both close to Vo Vecchio. In Battaglia Terme, at the finish of the Vogalonga, it is possible to stay at the "Bed & Breakfast L'Angolo Perduto" (Via Ortazzo 49, Battaglia Terme; tel. 049 9115946) or at the "Agriturismo Azienda Agricola Villa Egizia".
Information about the event: Circolo Remiero El Bisato (Via Squero 1, Batttaglia Terme; elbisato@gmail.com)
In the environs