Protagonist of long and bloody dispute: the medieval fortress on the Bisato Canal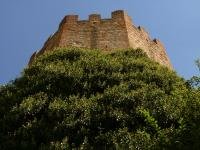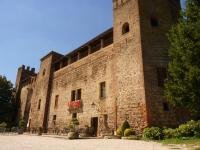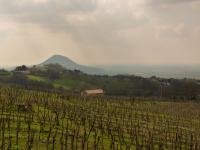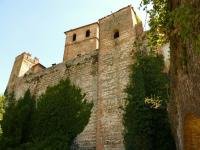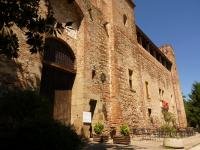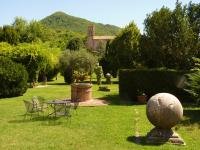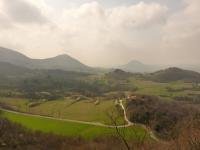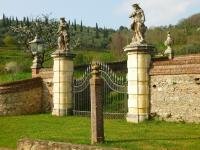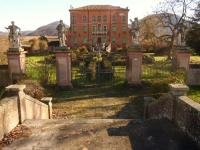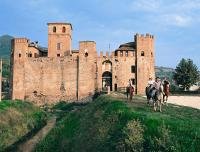 ❝The original thirteenth century military architecture of the fortress is still almost perfectly intact. Located in a strategic point at the foot of the Euganean Hills, Valbona Castle was the control centre of the fertile plains and of the commerce along the nearby Bisato Canal (1139). For this reason, the fortress was frequently the subject of bloody dispute among the lordships of Padua, Vicenza and Verona. ❞
The rigorously medieval architecture with its heavy defensive walls, typical moat with drawbridge and the large hexagonal towers are the main characteristics of this military construction situated at the foot of Mount Lozzo, west of the Euganean Hills. The visitor will discover an immense fortress which still maintains its original appearance, that of a typical thirteenth century defensive structure. Probably erected by the Ezzelini family, it stands in a strategic position between the territories of Padua, Vicenza and Verona, and, throughout the centuries was greatly contested by lordships who wanted to gain control over the waterways, river commerce and the surrounding fertile plains. The incessant disputes between the Carraresi, the Scaligeri and local families long conditioned the towns of Valbona and Lozzo Atestino, frequently ending in bloody slaughter. This contributed to the dark undertones, and legends about mysterious ghosts and medieval characters who are believed to still haunt the castle rooms. The military site was of marked importance for presiding over fluvial commerce, water being the only communication means for the transport of people and goods during medieval and Venetian times. Indeed, the ancient Bisato Canal, built in the mid twelfth century by the citizens of Vicenza, runs right by the castle. They built this canal in order to take away Bacchiglione waters from the citizens of Padua (thus hampering navigation) and to reach the ports of Venice and the Adriatic via the Vigenzone Canal further south, therefore bypassing the rival city of Padua. When commercial traffic ceased, the ancient waterway became a site for tourism, through initiatives which promote traditional sailing practices such as the renowned Vogalonga Euganea.
map
How to Get There
By train: the Castle can be reached from Este station (Mantova-Monselice railway line), situated about 11 km. from the site, with good cycle-rail interchange facilities.
By car: exit the Motorway A31 (Rovigo-Piovene Rocchette) at "Agugliaro" or at "Noventa Vicentina", then take the Valbona-Lozzo Atesino direction. Alternatively, travelling on Motorway A13 (Bologna-Padova) exit at "Monselice" and proceed along the SR10 road to Este, then turn north towards Lozzo Atesino. Free parking available in Valbona town centre.
information
Where to eat: inside the medieval fortress is the "Ristorante Castello di Valbona", which offers a remarkable variety of pizzas and is surrounded by a large park.
Where to stay: we recommend the Bed&Breakfast-Casa Vacanze Podere dei Carraresi, a rural building, rich in history, near the Valbona Castle.
In the environs