Urban water-scapes and the ancient tower "Torlonga" of the Carraresi Castle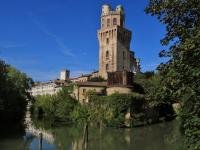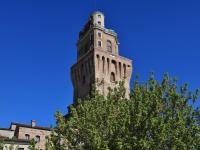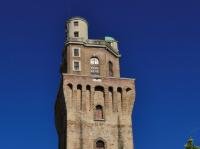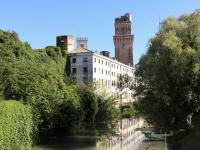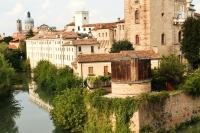 ❝The western wall of the city of Padua which rises next to the Bacchiglione offers a series of fascinating views, not least of the original long tower (Torlonga) of the medieval Carraresi fortress and the surrounding river. The Specola tower is today the seat of the Observatory, from which it took its name in the eighteenth century. ❞
The Specola tower, the ancient Torlonga of the formidable fortress that was built to preside over traffic on the Bacchiglione river, rises up from green banks on the principal urban tract of the river, called the Tronco Maestro. This exceptional medieval building stands in a key position, at the point where the Naviglio Interno canal (partly buried today, sadly) leaves the river and pushed on through the historical centre to be reunited with the main branch at the Porte Contarine. Due to the strategic location, which allowed for easy control of commercial traffic on the urban water arteries of Padua, the Ezzelini family erected an imposing fortification with two towers here in 1242. During the following century, the Da Carrara family who took over the governing of the city, built a new castle on the ruins of the prior defensive structure, embellishing it with impressive decoration both inside and outside. When Padua was annexed by the Venetian republic and the sixteenth century wall was built, the fortress lost its original military function and fell into decline until the eighteenth century when its restoration began. In 1761 the Venetian Senate decided to instate an Observatory for the University of Padua here, in the ancient Torlonga of the Carraresi Castle. Thanks to the abbot and Professor of Astrology, Giuseppe Toaldo, and the architect Domenico Cerato, the Specola was completed in 1777, becoming one of the most important observatories in Europe. It is even mentioned by Goethe in his "Italian Journey". Today the tower houses the La Specola astronomical museum, and is a fascinating site of "Padua city of water", set upon the urban course of the Bacchiglione, amid lush riparian vegetation, historical bridges and, on the opposite banks, the characteristic arcade of the Paleocapa Riviera.      
map
How to Get There
By train: from Padova station proceed towards the town centre along Corso del Popolo, then continue towards the cathedral (Duomo) and reach Riviera Paleocapa, from which the Specola is visible.
By car: exit the Motorway A4 (Torino-Trieste) at "Padova Ovest", proceed along the SR47 road taking the Abano Terme direction, then turn right towards the centre of Padova (Via Chiesanuova); travelling along Via Volturno, Via Milazzo and Via Euganea you will reach Riviera Paleocapa, provided with pay and display car parks. Coming from the South along the A13 Motorway (Bologna-Padova), join the link road towards the centre of Padova, exit at "Padova Sud", continue towards the historic centre along Via Battaglia and then turn onto Via Goito.
information
Opening times for visitors:
Museo dell'Osservatorio Astronomico di Padova
Where to eat: we recommend the "Ristorante Ai Navigli", which offers a variety of fish dishes, and the "Osteria Pizzeria La Vigna", both near the Specola.
Where to stay: very near the site is the "Methis Hotel " and the " Residence La Specola", centrally located for visiting the historic town centre.
In the environs