A noble palace and military bastion presiding over commerce on the Battaglia Canal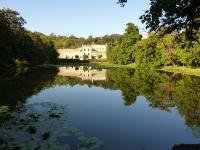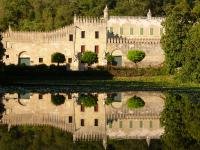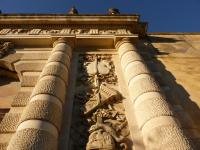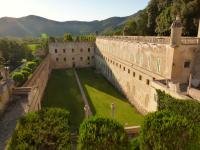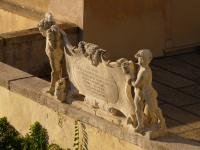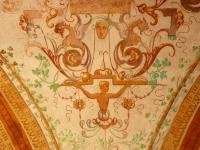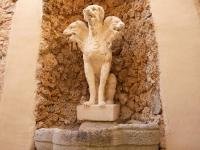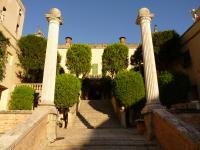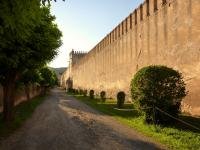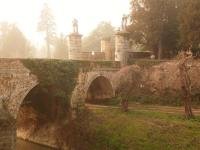 ❝A wonderful blend of military architecture and sixteenth century stately home, the Castle of Catajo dominates the navigable waterway it was built to control, the Battaglia Canal (1201). It houses valuable frescoes and esoteric symbols of the Renaissance period, and looks over the Garden of Delights, featuring an intricate array of fountains along with a nymphaeum.
❞
Guarding the Battaglia Canal, waterway of medieval origin at the foot of the Euganean Hills, is the majestic Castle of Catajo. In appearance, it is both a large fortification and an elegant stately home. Whereas the outer appearance is decidedly more military, the gardens are rather more typical of the Renaissance villas of Veneto. Internally, there are splendid sixteenth century frescoes by Giovanni Battista Zelotti, the pupil of Paolo Veronese. The cycle of forty paintings celebrates the victories of the Obizzi family, of French origin, who made their fortune in the Veneto Republic. In 1570, Pio Enea I degli Obizzi began the construction of the magnificent fortress and residential complex.
The castle is located in a strategic position along the Battaglia Canal and for centuries has been the fulcrum of control of navigation to and from the Euganean Hills. Accessed by means of a spectacular three-arched bridge, the castle has a long and airy entrance path, which leads to the Court of the Giants. Here, naumachiae (reenactment of naval battlers) took place, made possible by the hydraulic knowledge of the designers. An impressive stairway, also designed for access on horseback, leads to the stately floor and sumptuous delegation rooms. The fishponds in the Garden of Delights are also worthy of mention, with their many exotic plants and monumental fountains including the Elephant fountain with nymphaeum.
The Obizzi family greatly enriched the castle with collections of arms, musical instruments, paintings and archaeological finds. At the start of the nineteenth century, the last representative of the dynasty Tommaso degli Obizzi, bequeathed the entire property to Ferdinand of Hapsburg and Maria Beatrice d'Este. The rich collections were subsequently transferred to other Hapsburg residences throughout Europe. The castle is also linked to events of the Great War. The son of the aforementioned couple was Francis Ferdinand I, the archduke who in June 1914 left Catajo castle for Sarajevo where he was assassinated. The rest of the tragic story is well known to all.
map
How to Get There
By train: the Castle is situated 1,5 km. from Battaglia Terme station and about 4 km. from the station of Terme-Euganee-Abano-Montegrotto, served also by long-distance trains, with good cycle-rail interchange facilities.
By car: exit the Motorway A13 (Bologna-Padova) at "Terme Euganee" and continue towards Battaglia Terme-Castello del Catajo.
information
Opening times for visitors:
Castello del Catajo
Where to eat: we recommend the "Il Ristorantino", in Battaglia Terme historic centre, which serves excellent Italian cuisine (Via Roma 75, Battaglia Terme; tel. 348 8581703).
Where to stay: a short distance from the Catajo Castle, at the foot of the Euganean Hills, is the "Hotel Millepini", which provides a spa and thermal pools, including the deepest thermal pool in the world.
Bike and boat tours: Viaggiare curiosi (tel. 328 4089272; viaggiarecuriosi@gmail.com).
Bicycle rental: Ronda Corse (Via Catajo 2, Montegrotto Terme; tel. 049 8910262).
In the environs